Flew into Trondheim Airport with Norwegian Airways for £ 96 return ..
Landed at 23:30 on friday 19th and collected the hire car from Europcar ..
I got a free upgrade to a VW Golf and set the sat-nav for Asen ..
I'd been driving for about 20k when I got stopped and breathalysed by the police, I was clear, so carried on towards Asen ..
Another 10k and noticed that my arrival time on the sat-nav was 07:30am, yet it was only a 30 minute drive, i'd set the sat-nav to the wrong Asen ..
Now with the sat-nav reset " Turn around when possible " yeah I know !!
I drove back the way i came only to get stopped by the same police again ..
A quick stop at about 01:00am as this church looked rather nice ..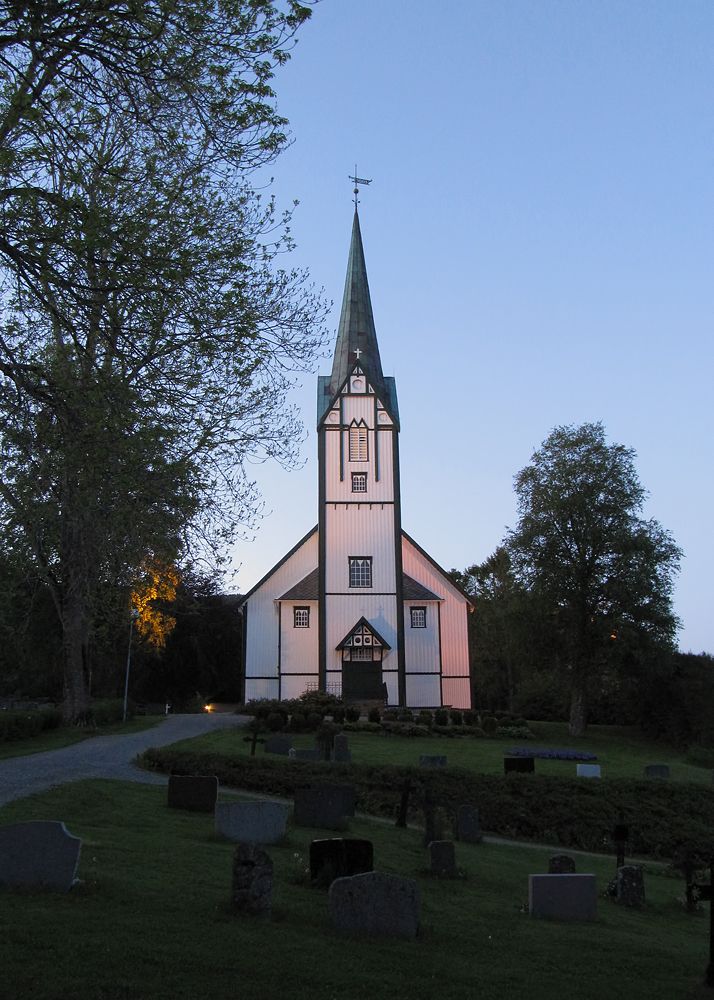 Eventually arriving at Gullberget Camp site (no gulls there) about 01:30am where i had a chalet for two nights at £70 ..
I was awake at 04:30am so went out and birded the peninsula heading for Frosta and then out onto the island of Tautra accessed via a causeway with electronic predator gates.
Summer plumaged Black-throated Divers & Red-throated, Eiders, Scoters, Mergansers with the most numerous bird being the Fieldfare 1000's everywhere ...
I went up to Ekne checking all pools and lakes most were birdless except one which had a pair of Slavonian Grebe alongside the FV61 Byavatnet ..
From Ronglan down to Hegra along the E14 to Meraker checking all lakes, driving down dead end tracks to access lakes and some great habitat with lovely scenery but not finding what i was after ...
This last image was from another dead end track which produced 2 Cuckoo and this Postcard Image ...
Drove back to Asen via different routes ..
Sunday was back out on the peninsula finding Common Crane with juveniles, both Black-necked and Slav grebes and a magnificent Black Woodpecker ..
Heaven doesn't really appeal to me, poncey white gowns, angels and generally goodwill to others ...
Where as Hell on the other hand as scantily clad women in black with whips and general debauchery ...
So I thought i'd go check out Hell
Hell was shut which was disappointing !!
So I caught the plane back home ..